Who is on 10 dollar bill? The United States 10-dollar bill is a widely recognized and frequently used piece of currency in circulation today. The face of the bill features the portrait of one of the most iconic figures in American history, a founding father and one of the country's early presidents.
This individual's image on the 10-dollar bill serves as a reminder of their significant contributions to the nation and their lasting impact on American society. In this article, we will explore the history of the 10-dollar bill and discover who exactly is featured on its face.
When did this picture appear on the 10-dollar bill?
In 1914, the Federal Reserve issued its first 10-dollar bill bearing the portrait of President Andrew Jackson. However, in 1929, the face on the bill was changed to that of Alexander Hamilton, one of America's founding fathers and the first Secretary of the Treasury. As a result, Jackson's portrait was relocated to the 20-dollar bill, where it remains to this day.
The printing of the 10-dollar bill, along with other larger denominations, was made possible by the Federal Reserve Act of 1913, which established the Federal Reserve as the central bank of the United States. The act also authorized the circulation of Federal Reserve Bank Notes as a form of currency in the early 20th century.
Over time, the board of governors of the Federal Reserve began issuing a new type of paper currency known as Federal Reserve Notes, which are still in circulation today. These notes are widely used in the United States and are considered legal tender for all debts, public and private.
Who is he?
Alexander Hamilton was an American statesman, Founding Father, and one of the most influential interpreters and promoters of the United States Constitution. He was born in the British West Indies and later became a statesman in the newly formed United States.
Hamilton served as the first Secretary of the Treasury under President George Washington and was a key figure in the Federalist Party, which advocated for a strong central government. He also played a significant role in the ratification of the Constitution and was a co-author of the Federalist Papers, a series of essays that helped to promote the ratification of the Constitution.
Where Was Alexander Hamilton Born?
Alexander Hamilton, one of the founding fathers of the United States, was born on the Caribbean island of Nevis in either 1755 or 1757. His parents, James Hamilton and Rachel Faucette Lavien, were not married at the time of his birth. Rachel was still legally married to another man, but had separated from him due to his mismanagement of her family's finances, which led to her being imprisoned for adultery.
In 1766, when Hamilton was just 11 years old, his father abandoned the family, and his mother passed away two years later. Despite these early struggles, Hamilton showed great promise and was hired as a clerk in a trading company on the island of St. Croix. It was there that he gained wider attention after publishing a moving letter describing the devastation caused by a hurricane that struck the island in 1772. The local community was so impressed by his writing that they raised funds to send him to America to pursue his education.
Alexander Hamilton's Children
Alexander Hamilton, one of the founding fathers of the United States, had a total of eight children with his wife, Elizabeth Schuyler Hamilton. The couple married in 1780 and went on to have three sons and five daughters.
First child, Philip
Their first child, Philip, was born in 1782 and was named after Hamilton's close friend and fellow revolutionary, Philip Schuyler. Tragically, Philip died in a duel in 1801, at the age of 19, while defending his father's honor.
Second child, Angelica
Their second child, Angelica, was born in 1784. She was named after Elizabeth's sister, Angelica Schuyler Church. After her marriage to John Barker Church, Angelica moved to Europe, where she lived for the rest of her life.
Third child, Alexander Jr
Their third child, Alexander Jr., was born in 1786. He went on to become a lawyer and served as a member of the United States House of Representatives from New York.
Fourth child, James Alexander
Their fourth child, James Alexander, was born in 1788. He also became a lawyer and had a successful career as a businessman.
Fifth child, John Church
Their fifth child, John Church, was born in 1792. He entered the United States Military Academy at West Point but left before graduating to pursue a career in law.
Sixth child, William Stephen
Their sixth child, William Stephen, was born in 1797. He served as an officer in the United States Navy and later became a lawyer.
Seventh child, Eliza
Their seventh child, Eliza, was born in 1799 and was named after her mother. She never married and lived with her mother until her death in 1854.
Eighth and youngest child, Philip Hamilton
Their eighth and youngest child, Philip Hamilton, was born in 1802 and was named after his deceased older brother. He also went on to become a lawyer, but tragically died in a duel in 1831, just like his older brother Philip.
Alexander Hamilton was a devoted father and deeply loved his children. He worked tirelessly to provide for them and secure their futures, especially after his untimely death in a duel with Vice President Aaron Burr in 1804. Despite the challenges and tragedies they faced, the Hamilton children went on to lead successful lives and make their own contributions to American society.
His Role in the Revolutionary War
Hamilton departed from his position on George Washington's staff in 1781. However, he later returned to the military, when Washington assigned him a field command for the Battle of Yorktown towards the end of the same year. At this battle, Hamilton distinguished himself with his brilliant performance, leading a successful assault that contributed to the surrender of British General Lord Charles Cornwallis.
Washington appointed Hamilton in 1781 to command a light infantry battalion in Marquis de Lafayette's Division. Hamilton played a key role at the Battle of Yorktown, which was the last major land battle of the American Revolutionary War. The siege took place from September 28 to October 19, 1781, during which the French attacked the British fort at Redoubt 9, while Hamilton simultaneously attacked Redoubt 10. The combined attack forced General Cornwallis to surrender.
"During Hamilton's time, exhibiting bravery on the battlefield was one of the few ways for an unknown person to gain fame," explains Michael E. Newton, author of Alexander Hamilton: The Formative Years. "Despite having a genius and being hard-working, Hamilton did not hail from a prominent family like most of the Founding Fathers. He knew that achieving glory in battle would make him famous and help him advance his career."
Brendan McConville, a professor of history at Boston University, adds that Hamilton was always sensitive about his humble origins, so it was important to him to prove himself during the war. "Although he wasa key aide to Washington for most of the war, Hamilton sought glory on the battlefield," McConville says. "He saw victory on the battlefield as a way to earn a good reputation."
Initially, according to Newton, someone else was given command of the assault on Redoubt 10. However, Hamilton objected, claiming that it was his turn and that he had seniority. "When Washington overturned the previous decision and gave Hamilton the command, Hamilton rushed to his friend and second-in-command, Nicholas Fish, and exclaimed 'We have it! We have it!' "
The Patriot strategy for the attack was to approach the redoubts "in silence with guns unloaded, encircle the enemy and force them to surrender quickly with few casualties," according to Newton.
"It was a surprise night assault on a moonless night—they did not want to give themselves away with flashes and the sound of guns," McConville adds. "Bayonets were to be used to avoid giving away specific locations and silence was ordered."
The plan worked: Hamilton's troops took control of the redoubt within 10 minutes and with few American deaths. And the victory earned Hamilton the reputation he sought.
"Hamilton's report of the assault on Redoubt 10 was published in newspapers around the country, but Hamilton made no mention of his own accomplishments that day despite heaping praise on those who served under him," Newton says. "Lafayette's report of the assault was also printed in these newspapersand heaped abundant praise upon Hamilton for his actions at Yorktown. As a result, the entire country heard about Hamilton's bravery and leadership."
Secretary of the Treasury
In 1789, George Washington was elected as the first President of the United States by unanimous vote. He then appointed Alexander Hamilton as the first Secretary of the U.S. Treasury. Hamilton's main goal was to establish financial stability for the new nation. To this end, he argued for the importance of a national banking system and for the federal government to assume state debts.
However, Hamilton's financial policies faced strong opposition from James Madison and Thomas Jefferson, who served as the Secretary of State at the time. They believed that his policies granted far too much power to the federal government.
The First Bank of the United States was chartered in 1791, and it was modeled on the Bank of England. This bank succeeded in fueling economic growth, and it marked the pinnacle of Hamilton's influence on the new nation.
Meanwhile, the debate continued to rage within Washington's cabinet over the balance of power between the federal government and the states. By 1793, when war broke out between Great Britain and France, the divide between Hamilton (who advocated for neutrality) and Jefferson (who wanted the United States to support France) had begun to shape the nation's first political parties: the Federalists and the Democratic-Republicans.
'Hamilton' the Musical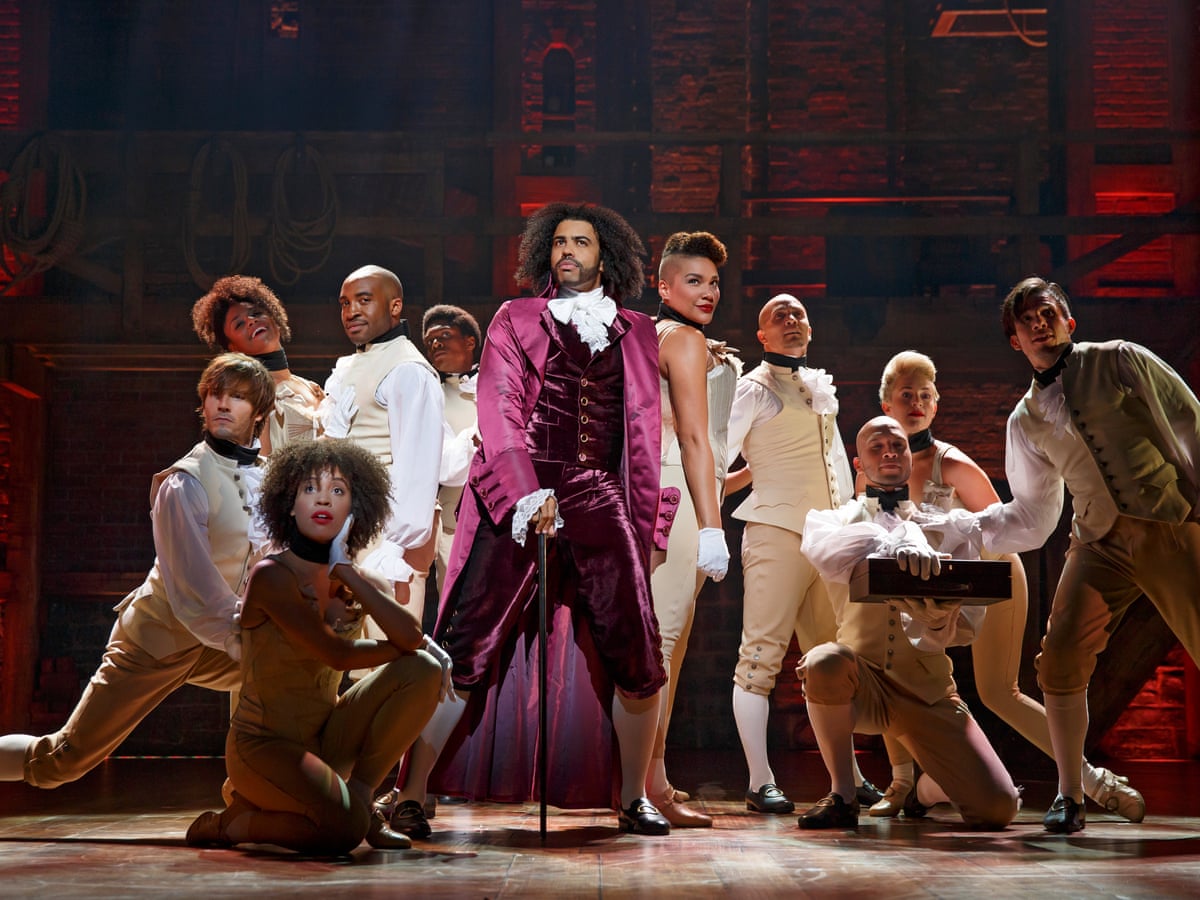 'Hamilton' is a musical that premiered on Broadway in 2015 and quickly became a cultural phenomenon. The musical was created by Lin-Manuel Miranda, who wrote the music, lyrics, and book, and based it on the life of Alexander Hamilton, one of the founding fathers of the United States.
The show features a diverse cast and blends hip-hop, R&B, and traditional show tunes to tell the story of Hamilton's life, from his early days as an immigrant in New York City to his service as George Washington's right-hand man during the American Revolution and his role in shaping the nation's early government.
The musical has been praised for its innovative use of music and its ability to make history accessible and engaging for a new generation. It has won numerous awards, including 11 Tony Awards, a Grammy Award, and a Pulitzer Prize for Drama.
'Hamilton' has become a cultural phenomenon, with sold-out performances around the world and a dedicated fan base. It has also sparked renewed interest in the life and legacy of Alexander Hamilton, inspiring numerous books, documentaries, and other works of art. Whether you are a fan of musical theater, American history, or just great storytelling, 'Hamilton' is a must-see production that has something for everyone.
How Did He Die?
In 1804, Aaron Burr, who had been largely sidelined in his role as vice president by Thomas Jefferson, decided to run for governor of New York. However, he was met with opposition from powerful party rivals and ultimately lost the election. Frustrated by his defeat, Burr became fixated on a newspaper article that had been published during the campaign, which claimed that Alexander Hamilton had insulted him at a private dinner.
Burr wrote to Hamilton, confronting him about the alleged slight. However, when Hamilton refused to back down, Burr challenged him to a duel. On July 11, 1804, the two men met at a dueling ground in Weehawken, New Jersey.
During the duel, both men fired their pistols. Hamilton's shot missed, and some historians believe that he may not have intended to hit Burr, but rather to "throw away his shot." Unfortunately, Burr's bullet struck Hamilton and mortally wounded him. Hamilton died the following day from his injuries.
Alexander Hamilton was buried in Trinity Church Cemetery in New York City, where his tomb remains a popular tourist attraction to this day. The tragic events surrounding his death have become a significant part of American history, and have been the subject of numerous books, films, and other works of art. Despite his untimely demise, Hamilton's legacy as one of America's most influential founding fathers lives on, through his contributions to the nation's early government and his enduring impact on American society.
Conclusion
In conclusion, the person featured on the 10-dollar bill is Alexander Hamilton, one of the Founding Fathers of the United States and the first Secretary of the Treasury. Hamilton's contributions to the establishment of the nation's economic system were significant, and his legacy is still remembered today through his image on the 10-dollar bill. I hope that my information is helpful to you!
FAQs for Who Is On 10$ Dollar Bill
Q: When was the 10-dollar bill first issued?
A: The first 10-dollar bill was issued by the Federal Reserve in 1914.
Q: Was Alexander Hamilton always featured on the 10-dollar bill?
A: No, the face on the 10-dollar bill was originally that of President Andrew Jackson. However, in 1929, the design of the bill was changed, and Hamilton's portrait was added to the front.
Q: Why was Alexander Hamilton chosen to be featured on the 10-dollar bill?
A: Hamilton was chosen for his significant contributions to the early American government and his role in establishing the nation's financial system.
Q: Can I still use old 10-dollar bills that feature Andrew Jackson's portrait?
A: Yes, old 10-dollar bills that feature Jackson's portrait are still considered legal tender and can be used for transactions.
Q: Are there any security features on the 10-dollar bill?
A: Yes, the 10-dollar bill has several security features, including watermarks, color-shifting ink, and security threads, that are designed to prevent counterfeiting.
Q: How long is the lifespan of a 10-dollar bill?
A: The lifespan of a 10-dollar bill varies depending on its usage and handling, but on average, it is around 4-5 years. However, bills that are in good condition and not heavily circulated can last much longer. When bills become too worn or damaged, they are taken out of circulation and replaced with new bills.
Q: Is the 10-dollar bill the only denomination of U.S. currency to feature Alexander Hamilton?
A: No, Hamilton is also featured on the front of the $50 bill, along with Ulysses S. Grant.
Q: Can I exchange damaged or mutilated 10-dollar bills for new ones?
A: Yes, you can exchange damaged or mutilated bills at your local bank or through the U.S. Treasury's Bureau of Engraving and Printing. However, the amount you can receive in exchange may depend on the extent of the damage or mutilation.
Q: Are there any interesting facts about the design of the 10-dollar bill?
A: Yes, the back of the 10-dollar bill features a depiction of the U.S. Treasury building and the words "Wealth of the Nation." The Treasury building depicted on the bill is actually based on the design of the building that stood on the site in the 1800s, rather than the current Treasury building in Washington, D.C. Additionally, the 10-dollar bill is one of the few denominations of U.S. currency to feature a woman on the back—specifically, the depiction of Lady Liberty holding a torch and an olive branchsymbolizing peace.